Piemonte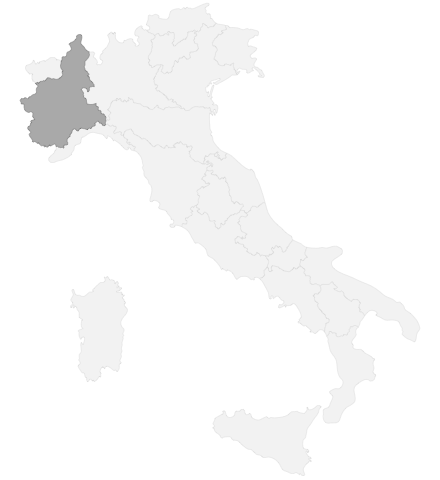 Piedmontese wine represents one of the cornerstones of Italian enology, grouping some of the most prestigious denominations especially in the field of red wines such as Barolo and Barbaresco . A land of winemaking tradition since ancient times, Piedmont produces great wines on its hills and on the Alpine and Pre-Alpine belts. In these places, which differ thanks to the different geographical and climatic characteristics that characterize them, manual labor is predominant and low yields per hectare are pursued, to enhance the quality of the wines that come to life here.
From the refined and sumptuous reds to the round and fragrant whites, to the inviting and pleasant dessert wines, the varied wine heritage of this region makes it an area of extraordinary excellence, appreciated both nationally and internationally.
Piedmontese red wine
The Piedmontese red wine is mainly obtained from native varieties, which see Nebbiolo , father of the great reds such as Barolo and Barbaresco, but also present in less known but equally interesting reds such as Gattinara , Ghemme , Carema and Fara, as well as that of alternative and original bubbles. Among the reds we certainly cannot forget the Barbera , which finds full-bodied and structured red wines in the Alba area (it is said that "baroleggia"), in Asti wines of great longevity and in the Monferrato sparkling and pleasant reds, famous thanks to "La Monella "By Braida. Other very interesting and highly drinkable reds are Grignolino (the "anarchic" wine according to Veronelli), Dolcetto (with territorial variations, from Ovada to Alba passing through Dogliani) and Freisa . Finally, the Ruché del Monferrato , from a native grape saved from extinction, and the rare Verduno Pelaverga are worth trying. Also of historical importance is a last grape, Brachetto , which has always given rise to the sweet and irresistible Brachetto d'Acqui .
Piedmontese white wine
If the most famous Piedmontese white wine is undoubtedly Gavi , obtained from Cortese grapes, there are other equally interesting and particular wines. For example, we cannot fail to mention the Timorasso from the Tortona hills, also suitable for long aging, or the Roero Arneis , the only white in the Langa area. Also interesting are Moscato and Erbaluce di Caluso which give life to both sweet wines and dry white wines as well as sparkling wines. In Piedmont, however, there are also international white grape varieties, such as Chardonnay , used in the precious classic Alta Langa DOCG method, and Riesling , which is able to give wines of great longevity.
What is the finest Piedmontese red wine?
The finest Piedmontese red wine is undoubtedly Barolo, also known as the king of wines and the wine of kings.
How many Piedmont DOC wines are there?
Piedmont has 41 DOC wines with controlled designations of origin and 18 DOCG wines.
How do you pair a robust Piedmontese red wine?
The perfect pairing with a robust Piedmontese red wine is undoubtedly the one with meats, both in the form of stew and roast, and as a sauce with pasta or ravioli.